Benvenuti!
Frank (Francesco) Rao is an award-winning third generation artist born in New York. His grandfather from Naples, Italy and his father were well respected and accomplished artists and sculptors. A thirty-five year career has afforded Frank the pleasure to work with countless celebrities, organizations, businesses and individual clients requesting his realistic murals and artwork. Frank's style of artwork and murals are widely recognized and can be seen all over the world. Please take a moment to view samples of his breathtaking artwork and client testimonials. Frank has been highlighted in numerous newspapers and magazine publications, some of which are on his Press page.
Schedule an appointment by filling out the short form on our contact page, by Email
Frank@MuralsbyFrank.com
or by phone at 321.795.5449 • 321.383.9077.
Ciao,!
---
Latest News & Events
Window Fashion Magazine
...To add more of the faux iron element to the room a curved niche in one of the walls was painted with a mural, designed as if viewer were looking out over the rooftops of an Indian village. The faux iron shutters help complete the illusion...
Read more!
Testimonial
We were most impressed with Frank Rao's vision and ability to produce a beautiful mural as a focal point in one of our common areas. It is now a beautiful artistic focal point which has added "life" to the area for many to enjoy. We found Frank to be highly professional and very personable with our residents.
— Shell Point Retirement Community,
Ft Myers Florida


Click Here for more Testimonials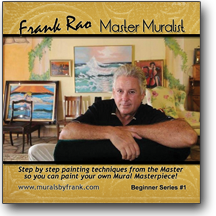 Frank Rao is excited to announce his new dvd with step-by-step painting techniques. Frank shares his vast knowledge and expertise so you too can paint your own mural masterpieces
.
The Beginner series gives you everything you need to get started.
Take a moment and view a small portion of the video.
Clients
•
Pirates Dinner Adventure
-Orlando, FLorida
•
Holiday Inn Express Hotel & Suites
-Cocoa Beach, Florida
•
Symetrics Industries Systems, LLC
-Melbourne, FLorida
• Larry Hagman and Heller Halliday-Vero Beach, FLorida
•
Days Inn
-Cocoa Beach, FLorida
•
La Bella Spa
-Merritt Island, Florida
•
Villa Pizza Corporation
-Las Vegas, New York, New Jersey
• Tommy Hilfiger
•
Céline Dion
-Miami, Florida
•
Stone Bridge Country Club
-Naples, Florida
•
Downtown Cocoa Village
-Cocoa, Florida
•
Bank of America
-Cocoa, Florida
•
Shellpoint Retirement Community
-Fort Myers, Florida